VISION OF ELECTRONICS (VOE)
Vision of Electronics, the ECE Association was formed to expand and append technical brilliance to the skills of students. All II, III & IV B.Tech ECE students are members in the association. Various activities such as symposia, seminars, technical quiz are carried out under this association with the objective of sharpening the technical expertise of the students.
Vision Of Electronics organizes intra department technical fest (ORAMA 2KXX) in every academic year thus providing a useful platform to enrich the skills of the students thereby paving the way for them to match with real time technical demands keeping pace with the emerging trends and developments in the modern technology.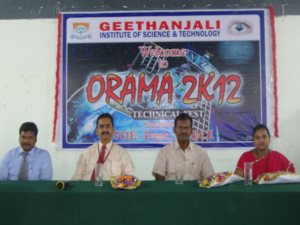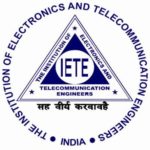 IETE Students Forum (GIST-ISF)
The Institution of Electronics and Telecommunication Engineers (IETE) is India's leading recognized professional society devoted to the advancement of Science and Technology of Electronics, Telecommunication & IT. Founded in 1953. The IETE is the National Apex Professional body of Electronics and Telecommunication, Computer Science and IT Professionals. It serves more than 1, 25,000 members (including Corporate, Student and ISF members) through various 64 Centers, spread all over India and abroad. The Institution provides leadership in Scientific and Technical areas of direct importance to the national development and economy.
IETE Student forum of Geethanjali (GIST-ISF) is inaugurated by Prof.Dr.S.Varada Rajan, Professor, Dept of ECE, SVUCE, SVU, Tirupati.The forum was established in 2010 to conduct workshops, paper and poster presentations,etc. and the principal objective of the student forum is
Enabling the students to gather the technical information from various sources
Making them compatible to industry needs by inculcating team work and a sense of collective responsibility to accomplish the targeted mission in collaboration with the peer groups.
IEEE Student Branch
IEEE is the world's largest technical professional organization dedicated to advancing technology for the benefit of humanity. IEEE and its members inspire a global community to innovate for a better tomorrow through its highly-cited publications, conferences, technology standards, and professional and educational activities. IEEE is the trusted "voice" for engineering, computing and technology information around the globe.
There are more than 420,000 IEEE members in more than 160 countries. IEEE publishes a third of the world's technical literature in electrical engineering, computer science and electronics and is a leading developer of international standards that underpin many of today's telecommunications, information technology and power generation products and services.
IEEE opens the door to opportunities that will help you develop your professional identity in IEEE's designated fields of interest: sciences, technology, engineering, and mathematics (STEM). In addition to accessing a range of membership benefits, you'll make global connections with people who can help you along your targeted career path through IEEE's international community of members and volunteers.
IEEE Student Branch of ECE started from September 2015
It provides an environment to glean and share the technical information and execute various activities like Poster presentations, Paper presentations, Seminars,National & international level technical conferences etc. to broaden and strengthen the scope of an engineering aspirant's technological learning.