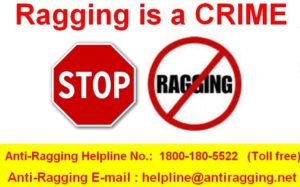 Ragging:
Any disorderly conduct whether by words spoken or written or by an act which has effect of teasing, treating or handling with rudeness any junior student, indulging in rowdy or indiscipline activities which causes or is likely to cause annoyance, hardship or psychological harm or to raise fear or apprehension thereof in a fresher or a junior student or asking the student (s) to do any act or perform something which the student will not do in an ordinary course and which has the effect of causing or generating a sense of shame or embarrassment so as to adversely affect the psyche and do a physical harm to a fresher or a junior student.
Anti ragging committee in Geethanjali Institute of Science and Technology is constituted in the year 2009 with a few members who get changed every year. Every year before the commencement of first year class work the committee members discuss the preventive measures. The committee is headed by Prof.Dr.G.Subba Rao.
Measures taken to avoid ragging:
Display of names of anti ragging committee members with phone numbers. In each floor in the whole campus random and surprise visits and checks by the members in campus, hostels, and canteen.
Arranging awareness programs for all the students by members of judicial and police department.
Complaint/suggestion boxes placed in the campus.
Placing boards containing messages such as "Ragging is a CRIME", "Ragging is prohibited", "Stop ragging" and "Say no to ragging.
Anti Ragging Awareness Programmes